Making a BRONCO Difference!
Take a break on Black Friday from the shopping frenzy and come volunter!
The BBABC has been assigned a NISD concessions this Friday, November 24th, for the 2:00 playoff game between O'Conner and Reagan.
We are still in need of more volunteers.
Arrival time: 12:00
Location: Farris Stadium Homeside
Needed: 18 more Volunteers
Let's show our BRONCO SPIRIT!
Click link below to sign up!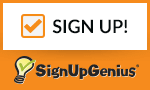 NHS Students – this will count for your service hours.
Get the word out – Please share this on Facebook and Twitter.
Together
Everyone
Achieves
More